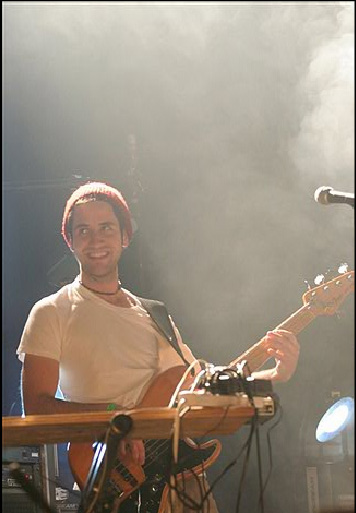 :::Jacob Chmara:::
Turnin' it out on the bottom end is Smokestack's newest addition, Jacob Chmara. He just recently received a Bachelor's in Saxophone Performance from the University Michigan (yes, he plays the sax too) where he studied under the great saxophonist Donald Sinta and has received several honors for his saxophone skills including top prizes at both national and international performance competitions. Having also played bass since the age of 12, Jacob has studied with Detroit bassist Marion Hayden as well as former Smokestack bassist Glenn Brady ('sup Glenn!). His performances have taken him throughout the U.S. and Canada as well as to such far-reaching places as Japan.

Jacob's primary bass influences include James Jamerson, Ron Carter, Verdine White, Aston "Familyman" Barrett, Flea, and Marcus Miller. Saxophone-wise, he digs Joshua Redman, Sonny Rollins and Stanley Turrentine. Generally speaking, he owes much to the music of J.S. Bach and Astor Piazzolla. Jacob also acknowledges Albert Camus and Rainer Maria Rilke for their invaluable insights into life.

When he isn't practicing or performing, Jacob enjoys running (aimlessly whenever possible), reading philosophy, and talking with good people over a good cup of coffee.

What's in my stereo:
Stevie Wonder "At the Close of a Century", Bob Marley "Legend", Ben Harper "Diamonds on the Inside", The New Deal "The New Deal", The Flaming Lips "Yoshimi Battles the Pink Robots"